With so many good areas scattered throughout the island, the opportunity exists to connect with good birds almost anywhere.
Also, because of the seasonal nature of many of the wetlands they may be productive one week and not the next and may equally vary from one year to the next.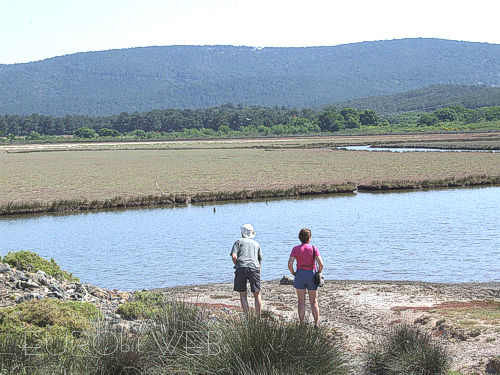 Don't forget – the areas below are only a very small selection of the large number of them that exist all over Lesvos.
At a conservative estimate, 160+ species should be quite attainable for a two week visit around mid-April!
Achladeri Area:
Heading eastwards from Kalloni Salt Pans you pass the semi-tidal wetland area known by birders as Derbyshire (good for storks, Ruddy Shelduck, Great White Egret and various gulls, including Slender-billed).
Once you cross the bridge over the river you pass a track to the left by a small army hut (where Kruper's Nuthatch were recently found breeding) and then skirt the coast until you cross another river with a picnic site (excellent for Serin, Nightingale etc); through the area known as Achladeri Plain and on to the pinewoods bordering the army camp just before the army base at Achladeri.
The two tracks off to the left here produce most of the typical woodland birds, including Kruper`s Nuthatch, Short-toed Treecreeper, Middle Spotted Woodpecker, Serin and Coal and Long-tailed Tit (both scarce species here). Long-eared Owl may also be a possible bonus to the sharp-eyed, and in late spring and summer the shade here is always welcome.
Kalloni East River:
Situated just east of Skala Kalloni Square, the river is driveable for nearly 3 kms on either bank between the river mouth and the main road bridge. This can afford excellent views from a vehicle in the peak months of April and May.
However, even outside this period there is usually water between the main ford and the river mouth and a few pools upriver from the ford. Apart from an excellent selection of waders, herons, storks, egrets, wagtails etc and all the birds mentioned above, it is also a good area for singing warblers (Olivaceous and Great Reed especially); Nightingale, buntings and shrikes.
In migration time almost anything can turn up along here, and usually does! The Upper East River area gives a taste of upland birds like Western Rock Nuthatch, Black-eared Wheatear and Blue Rock Thrush. Both Subalpine and Ruppell`s Warbler also nest, and Rufous Bush Robin are regularly to be seen displaying from late April.
The whole area is also good for raptors.
Kalloni Pool:
Though gradually becoming overgrown, this excellent wetland area, situated within sight of most of the main hotels in Skala Kalloni, is always worth a look when wet (usually up to mid or late May).
It usually holds breeding Water Rail and Black-winged Stilt, Kingfisher, regularly feeding White Stork, parties of Glossy Ibis, waders, crakes, numbers of Little Egret, Little Bittern, Purple, Night and Squacco Heron. Amongst wintering and passage wildfowl, gulls and terns, Garganey and a late April passage of marsh terns (usually Whiskered and White-winged Black) are specialities.
A Bittern often lingers in April and harriers and sometimes Peregrine may hunt the area.
Kalloni Salt Pans:
If you continue along the track directly opposite East River main ford this takes you past a number of wet meadows (check the wires in spring for Red-footed Falcon, Roller and Lesser Grey Shrike and also listen for Quail) and past the treatment works to Kalloni Salt Pan channel.
A variety of waders are possible here at the appropriate times (Marsh and Curlew Sandpipers and Spur-winged Plover for example) and the main pans usually hold a good selection of waders, duck, gulls and terns in season – with Greater Flamingo and Avocet usually present in good numbers.
All four harrier species regularly hunt the area in spring and autumn. If you continue past the works entrance and past the concrete headland to the area I describe as the flooded sheep field you encounter good numbers of nesting Bee-eaters in spring and summer, and the field itself (when wet) attracts a good spring passage of Yellow Wagtails of various races and often considerable numbers of pratincoles, Red-throated Pipit and the odd Calandra Lark amongst the flocks of Short-toed.
Stone Curlew also breed, and gatherings of Ruddy Shelduck can exceed 40 birds in early spring.
Napi Valley:
This area is accessed from Kalloni Salt Pans via Agia Paraskevi and Napi, heading in the direction of Madamados. It consists predominantly of pastureland and areas of mixed olive and oak (mainly the latter) interspersed with drystone walls.
As such it hosts many of the island`s more specialised breeding species, like Sombre Tit, Masked Shrike, Middle Spotted Woodpecker, Orphean and Olive-tree Warbler and even Hawfinch.
The area close to the radio mast is also an excellent spot for observing raptor movements, and apart from breeding Short-toed Eagle and Long-legged Buzzard, Hobby, Eleonora`s Falcon, various Eagles and often sizeable parties of Red-footed Falcon can be seen here on migration.
Sigri Area:
This area is about as far removed from Kalloni as you can get, but it`s well worth the drive of approx 90 minutes. You can either approach via Agra and Messotopos or up the centre of the island, but in either case the rugged upland scenery is spectacular.
Apart from a variety of raptors, Western Rock Nuthatch, Cretzschmar`s and Cinereous Bunting, Red-rumped Swallow, Crag Martin, Woodlark and Rock Sparrow are all likely en route. If you haven`t already connected with all these species by the time you reach Ipsilou monastery (perched on a hillside on the approaches to Sigri) then a small diversion may be in order, especially as this can be one of the best spots on the island for falls of migrants (warblers and flycatchers especially) as well as all the typical breeding upland birds.
Isabelline Wheatear can also be seen from the roadside, as well as parties of hunting Lesser Kestrels.
Faneromeni Area:
If you do a right along the coast just before Sigri you come to the fertile, irrigated area known as Faneromeni. Here the cultivated fields, fig and olive groves play host to a variety of migrant warblers, wagtails, chats shrikes and pipits, and both Wryneck, Roller and Golden Oriole are regularly recorded here in spring, along with attendant raptors like harriers.
If you continue along to the river mouth by the beach or go straight along to Faneromeni ford and beyond you can usually tick off most of the wetland species already mentioned (at least until the watercourse dries up in May) – with a particular emphasis on birds like Little Bittern, Spotted Crake, Citrine Wagtail and a good chance of Great Snipe around mid-April.
Large falls of flycatchers around the extensive stands of bamboo and reeds bordering the river usually include good numbers of Collared and a few Red-breasted, Rufous Bush Robin and Bee-eater both breed in good numbers, and the whole area can be alive with flocks of Spanish Sparrow and Black-headed Bunting in spring.
In autumn, check the area around the irrigators for feeding and bathing migrants.